Kentix Most Looked Up Product at NYC ISC East Show 2015 in "Connected Security"
PR.com
Thursday, February 4th 2016
image: http://img.pr.com/release/1602/366204/pressrelease_366204_1454360091.jpg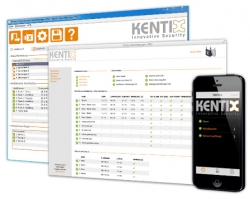 Andover, NJ, February 04, 2016 –(
PR.com
)– Kentix Innovative security –The Most Digitally looked up product at ISC east.
At the ISC east new product forum several new technologies represent game changers in physical security.
Security Industry experts, representatives from Government and State Agencies, and all fields of Security and enforcement attend the ISC East show in NYC.
ISC East is "The" security industry trade show. ISC supports awareness and is about new and future products encompassing everything from surveillance to software. It is the premier showcase for new security innovation. The show is supported by the SIA Security Industry Association, and its leaders.
With the mobile telecommunications rising and the ability to utilize mobile applications and cloud based portals security as we know it is going through a transformation.
Introducing Kentix Innovative security. Kentix utilizes multisensor technology that combines an array of different sensors in one compact unit making Kentix monitoring systems much more efficient than conventional systems.
The technology is simple yet considers every aspect of mission critical equipment.
Temperature, Humidity, CO2, Fire, Sabotage, Power Loss, Access, and etc, all in one box solution and wireless; we utilize Zigbee to create a mesh network that is constantly monitoring all conditions of the area. Alerts are sent via text messages or emails, and enable the ability to control actions from your phone as well.
Open Process Control and easy to integrate with existing systems: Network Monitoring Software, DCIM BMS, and enable other parameters that you monitor to be added to their critical text and/or email alert system. Knowing when your network goes down, is a key feature.
And one step further- Physical Security; Kentix offers remote control, of access and video to simply tie security in to the "blanket coverage." The client wil Know and Control access to critical and secured areas.
Kentix integrates IP cameras, Access keypads, and continuous status, to be able to control and view remotely. The Innovative security system logs and documents all events while always monitoring real time to instantly alert to any breech to your PC, tablet, or mobile device.
Integrated access supplies innovative security solutions for the monitoring of server rooms, equipment rooms, infrastructure, as well as office space.
"Kentix was among the top companies in searched among the New Product Showcase at the 2015 ISC EAST Show." -Stated by Steve LaRoche who is the director of the ISC East show.
As technology is changing, the group at Reed exhibitions are showcasing a new format "Connected Security."
Connected Security brings together IT and physical security, which is what Kentix provides.
Kentix is pleased to announce that they are the Gold Sponsor for the new Connected Security venue, which will be held in Las Vegas, Nevada from April 6th-8th 2016.
With Security at the the top of most Corporate lists; utilizing the Kentix system at the equipment level, and to be able to know status at anytime, anywhere, is a game changer. To know at the "edge," the actual server itself ensures integrity and security of critical equipment, critical areas, and uptime of business processes.
About ISC East:
ISC East is the NYC area's largest Security trade show. The reach encompasses the security industry and network with over 28,000 security professionals. Working with SIA, ISC also features world class education to learn about every facet of the security industry. For more info on SIA Education@ISC go to http://www.isceast.com
About Connected Security Expo: Connected Security; The Connected Security Expo is the only event where you can experience physical security from an IT security lens. Join cyber and physical security leaders from across industries to explore how physical security can help mitigate cyber threats and bridge the gap between security and IoT.
About Kentix: Kentix US works with "best in class" resellers and solution providers across the US to service our customers. We offer exceptional service and are growing our US facility and team partners to best provide our solution to ensure continued uptime and support of mission critical business process.
Visit us www.kentix.com/us
Contact Information:
Kentix US
Tanja Lewit
973-600-5170
Contact via Email
www.kentix.com/us